The IGHL Fashion Fling
---
On Sunday, October 20, 2019 IGHL hosted their 11th annual Fashion Fling and Luncheon at Westhampton Country Club. The beautiful day was filled with friendship, fashion, and amazing raffle prizes. Thank you to our guests, sponsors, and volunteers for helping to make this such an amazing event filled with fun and laughter.
Thank you to our Event Sponsor!
Willis Towers Watson


For the past two years, the funds raised through IGHL's Fashion Fling have supported an expansion project for IGHL's Gregory House, which is home to six young ladies. Some of the necessary upgrades in the home include a re-modeled kitchen, new roofing and siding, as well as updated windows. An additional bedroom and bathroom have allowed each individual to reside in their own bedroom, which gives them added privacy and a more pleasant living environment. The proceeds from this year's event will complete this renovation.
Thank you, as always, for your generosity and support. Please know that you have made an impact on the lives of the individuals and families that rely on IGHL.
IGHL Annual Westhampton Golf Outing
---
IGHL hosted our 29th Annual Golf Outing on September 9, 2019 at one of eastern Long Island's premier private golf courses, the majestic Westhampton Country Club. Golfers enjoyed breakfast in the newly renovated clubhouse, lunch on the veranda, and the cocktail hour and dinner with prizes. It was a beautiful day for a round of golf and we are so grateful to those who attended and supported this endeavor.
Thank you to our 2019 Honoree!
Mason Hicks
Thank you to our 2019 Sponsors!
Eagle Sponsor
Michael Simonson & Beth Lief
Birdie Sponsor
BNB Bank
Island Outreach Foundation
Par Sponsor
Professional Cleaning People
Bogey Sponsor
Tortorella Group
Egan & Golden, LLP
The Ahern Family
Putt Sponsor
Gunster (Tom Hickey)
Irwin Siegel Agency
40th Anniversary Gala
---
IGHL celebrated their 40th Anniversary Gala on May 23, 2019 at Flowerfield in St. James. IGHL Founder and CEO Walter W. Stockton was honored for his hard work, commitment, and dedication. Entertainment was provided by Mike DelGuidice & Big Shot Celebrating the Music of Billy Joel. Thank you to all who supported, attended and helped IGHL celebrate 40 years of tremendous success in providing services for the intellectually disabled of Long Island. It was an incredible evening.
IGHL St. Patrick's Day Auction & Dinner
---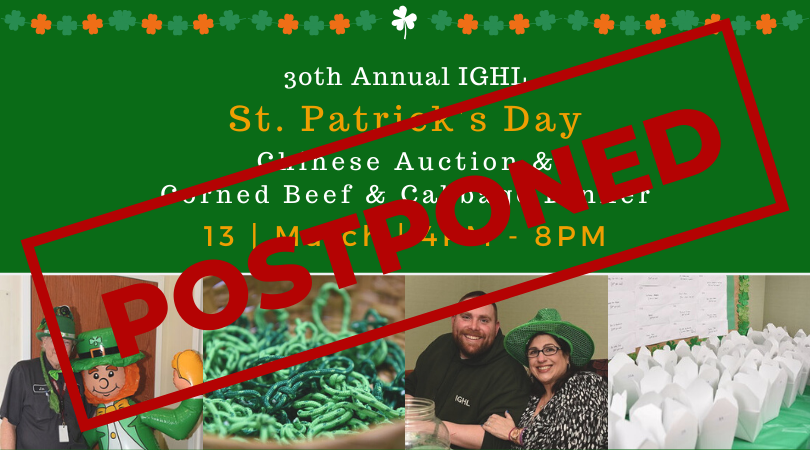 Out of abundance of caution, we are postponing our St. Patrick's Day event.
We trust that you understand this necessary precaution.

Our office will be in touch with all those who prepaid for dinner tickets.

For any other questions please call 631-878-8900.
Thank you for your understanding.